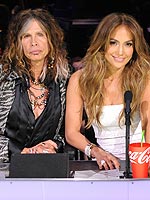 Steven Tyler has announced he is leaving American Idol after 2 seasons. He has decided to fully recommit to Aersomith. Although I always thought his critiques during the Live show could have been more thorough, more helpful, I did think he was quite entertaining, especially in the audition and Hollywood rounds.
Jennifer Lopez meanwhile has all but announced her exit from the show. She has been hinting about it and hinting about it and I think with Tyler's departure she will announce hers soon.
So back to square one. Just Randy and Ryan.
We will post again once J.Lo announces her departure or her recommitment to the show, I am thinking we will be seeing the former rather than the latter. So keep checking back here.